No.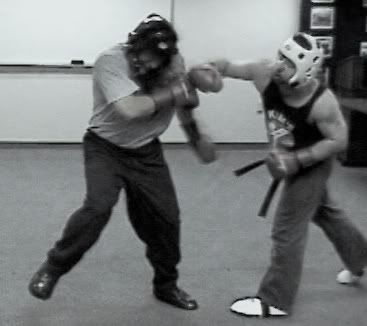 Ok. I guess more of an explanation is necessary. My post, "
The world we don't see
," linked to Rosstraining's video clip of Mickey Ward's recovery from his (hopefully) last fight.
Watch it
. One of Ross' commenters asked:
"I often wonder, though, as to why the professional world does not require boxers to wear protective head gear (the same goes for other martial arts). IMHO, wearing head gear should be a no brainer (no pun intended), specially in the pro fields where the practicioners are bigger, badder, and hit harder. Wearing head gear makes these already tough men (and women) no less tough than they are already. But would prevent many long-term disability injuries."
In my opinion, that's not correct. I don't believe that headgear does much to prevent damage to the brain. For the following reasons:
A blow to the headgear still does to prevent the rapid acceleration of the brain inside the skull, and nothing to prevent the inevitable impact of the brain, possibly resulting in a concussion.
Is there any benefit to headgear? Sure. I love it because I train on hard surfaces (floors or pavement) or uneven (grass), and I hate worrying about whether I'm going to smack my skull on something sharp or hard when I go down, even accidentally. Headgear is great to prevent that. Headgear also protects against cuts and abrasions to the skin. That's important when training for a fight because a cut could mean a postponement of cancellation of a bout. For most of us, a little cut just makes us look tougher on Monday when we go back to our geeky jobs.
To be sure there's slight reduction in the impact of a blow. I'd much rather take a Thai kick or overhand right to the headgear than my skull, but if I wear headgear I may never see it coming.
Agree? Disagree? Comment at the Convocation of Combat Arts thread
here
.
UPDATE:
The PDF below
EFFECTIVENESS OF BOXING HEADGEAR FOR LIMITING INJURY
references a study which measured the force and impact of a hook punch with headgear on and off of a device to simulate the neck and head, and concluded:
The utilization of boxing headgear significantly reduces the peak punch force delivered to an opponent. In
addition, both angular and linear acceleration values are decreased when the headgear is in place. Thus, the resulting HIC is also diminished for the hook punch. Based on the current effort, the currently designed headgear and gloves are effective in reducing the risk of injury.
While I can't fault the study's methodology or results (It's "Big Headgear!" Corporate interests funding it, I tell you!), the first link below,
Boxing Damages Brain Despite Headgear Protection
, concludes the opposite, and this is based on real-world results:
But the study carried out by researchers at the Sahlgrenska University Hospital found that dementia pugilistica disease does not only affect career boxers, it can also be developed by amateur boxers who have been in the boxing ring for a shorter period and received, by far, fewer head blows. Henrik Zetterberg, M.D., Ph.D., of the Sahlgrenska University Hospital stated: "to our knowledge, no study has examined the short-term effects of amateur boxing on the brain in direct connection to a bout."




In the study, the team analyzed the cerebrospinal fluid of 14 amateur boxers with an average age of 22 after 7 to 10 days after they had a fight in the boxing ring and also after a 3-years period after the match. They compared the results from amateur boxers with results from perfectly healthy people who were not involved in any kind of sport which could cause them head traumas.




Findings of the cerebrospinal fluid tests after boxing matches showed that amateur boxers presented increased levels of markers for neuronal, axonal and astroglial injuries. "The current study contributes new information about brain injury risks in amateur boxing. Data suggest that participation in an amateur boxing bout is directly associated with neuronal and astroglial damage, as reflected by the increase in NFL, T-tau, and GFAP concentrations in cerebrospinal fluid," explained the authors.


But the same tests taken after 3 months of rest from fights in the ring proved that boxers presented decreased, therefore normal, levels of the fibrillary acidic protein (marker for astroglial injury). However, levels of neurofilament light protein (marker for neuronal and axonal injuries) were still higher in amateur boxers as compared to healthy people not involved in any kind of violent sport.
What the heck does this mean??? Should you, or should you not wear headgear when sparring or fighting? Would pro fighters benefit from it, with respect to long-term health or short-term injuries? I stand by my conclusion. I believe amateur fighters who wear the headgear are more prone to get hit, but just show less blood due to the headgear (unless it's a broken nose), resulting in the same damage to the gray matter, but preserving their youthful good looks. I, on the other hand, don't always wear headgear, so the results speak for themselves!
For more information:
Boxing Damages Brain Despite Headgear Protection
EFFECTIVENESS OF BOXING HEADGEAR FOR LIMITING INJURY
(PDF)
Stop hitting me so hard!
Head Butts - use 'em or not?
Hand Protection, What is the Cost?
____
All original material is copyright of their respective authors.
All rights reserved. Permission must be obtained before use. Copyright 2007