Released: 1973
Go to IMDb page
Information © IMDb.com
Mio nome è Nessuno, Il
Terence Hill, Jean Martin, Karl Braun, Steve Kanaly, Neil Summers, Mario Brega,
I saw this as a kid, loved it! Pat commented on my Best Bar Fight Scene post and pointed to a scene from another Terence Hill flick called My Name is Trinity, I think, that was always one of my favorites. In both, his character is a dirty, grimy, rude, antihero, a trademark of director Sergio Leone, who also directed Clint Eastwood's classics in the spaghetti western genre. Quite a contrast to Roy Rogers, Gene Autry, or Gary Cooper! If you can rent this one, do it. You'll love it!
I decided to avoid posting the embedded video here due to the content [Parental advisory: content], but click the image to go to YouTube.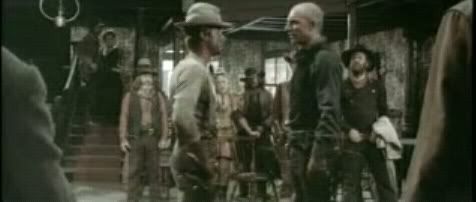 Interesting facts (via Wikipedia):
According to and IMDB, this was "also known as Il mio nome è Nessuno and Lonesome Gun."
The film was Henry Fonda's final western (didn't know that one!)
It was actually directed by Tonino Valerii, but Leone gets the credit
It has a runtime of 111 minutes for the TCM print, and 117 minutes outside of America.
For more information:
Internet Movie Database
Wikipedia: My Name is Nobody, Terence Hill,
TERENCE HILL official international website
TDA Best Bar Fight Series
Best Bar Fight Scene
Another Best Bar Fight Scene
Convocation discussion