Expect a number of significant improvements to TDA Training in 2008: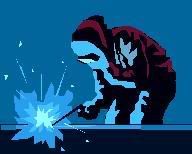 The addition of a second author! I have lined up one of the best new martial arts (MA) bloggers out there to be a regular contributor to TDA. I expect we'll get occasional posts, plus input in the form of additional feedback in my posts. A second point of view will provide you with a better blog. Stay tuned for an introduction near the beginning of the year.

More

regular posting

. As you may have noticed, I post in fits and spurts. One of my primary goals has been more consistent posting, with five posts per week as an ideal. If you blog, you may understand how difficult it is to work an amateur pursuit in with familial and professional obligations. My time is divided between putting out fires, long-term projects, and travel in my vocation, and a new house, two kids, and my "honey-do" lists at home, probably no different than many of you. I brilliantly came up with the solution after reading

this excellent advice

: put together posts in advance, then do my brilliant off-the-cuff posts as they happen, as a supplement. Having another author on TDA will help with the consistency, as well.

New TDA Training group

. Since moving the clan to northwestern PA, I have sadly left behind

the group

that provided my posting inspiration and material. As an instructor, I've run the gamut of teaching several classes or seminars of 15-25 students, and, what I like to call coaching small groups. I prefer the small groups because of the personal attention, and the pace and quality of progress in the student's skills and confidence. As

I posted a while ago

, I plan to assemble a group consisting of military veterans and active duty law-enforcement to train, primarily because that's the demographic that shares my interest in practical training and conditioning. More

video

and photo

instructional

posts will result from the new TDA group.

Improvements to the site design and services. I want to take TDA Training to another level. I realize that some consider this site a leader in the small field, but I see the deficiencies in a more glaring way as we get more and more popular. I'd like suggestions on the site layout and features from you. I'd appreciate it if you'd email me with any suggestions that you have.

Interviews with interesting martial arts personalities and other MA bloggers. I think there are so many great martial artists that can benefit us all, and I want suggestions and contact information (via email, tdatraining at gmail dot com). I'd like to do an interview a month, as an ideal. Any ideas?

More collaboration with the Convocation Partners, and other MA bloggers. I plan to use more guest posts, linking, and sharing to make TDA Training one of your best stops on the Web for MA training information. If it's out there, I want to know about, link to it, or post on it. Tips will be rewarded with gratitude and good will! Let me know about something you'd like to see covered.

Regular Q&A. I'd like to host some questions and answers from martial arts students, instructors, or aspirants on the site. Please email questions to me. If I don't know the answer, I will forward it to someone who does, then post for all. Posts will include references to first names only, or an alias to ensure confidentiality, if desired.

Finally, I plan to do more seminars, as time permits, including women's self-defense. This may indirectly benefit readers, if you plan to attend, but I will try to include follow-up information on the blog for everyone.
Anyway, thanks for a great 2007, and please join us in 2008 for an even better year!