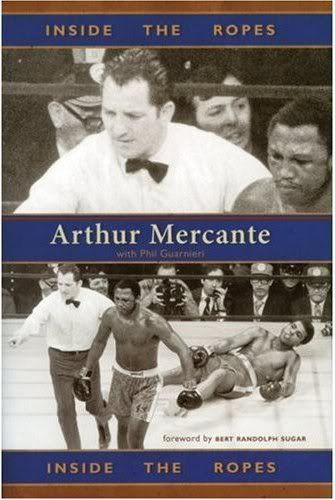 When my lovely wife brought this book home for me (cool wife, eh?), I instantly recognized the name Arthur Mercante. Then, on seeing the cover photo of a ref directing Smokin' Joe Frazier to a neutral corner after he'd decked Ali, I knew I'd love it!
As the inside flap says, this book gives you the "Inside stories of some the greatest prizefights of all time, including Floyd Patterson-Ingemar Johansson II, Joe Frazier-George Foreman I, and the Fight of the Century: Muhammad Ali-Joe Frazier I." It does more than that, it gives you a perspective on the guy you should never notice, but love to hate: the referee.
Mr. Mercante begins his story by telling of his humble upbringing in Depression-era Brockton, Massachusetts, and his start in boxing at the tutelage of his uncles, Joe Monte and Neib Montagano. Uncle Joe (who fought both Jim Braddock and Max Schmeling!), and Uncle Neib, who boxed in the Marines, encouraged Arthur to learn the trade as an amateur boxer.
The attack on Pearl Harbor then prompted young Arthur to enlist in the Navy, where his boxing skills led to an assignment as an instructor in the Gene Tunney Physical Fitness Program, whereupon he began refereeing. That part-time interest then became his legacy to the boxing world. Mercante was "inside the ropes" for some of my greatest boxing memories, including some of the best known championship bouts of Ali, Frazier, Foreman, Sugar Ray Leonard, Arguello, Dwight Muhammad Qawi, Wilfredo Gomez, Donald Curry, Tommy Hearns, Hagler, Hector Camacho, Fenech, Tyson, Julio Cesar Chavez, Buddy McGirt, Roy Jones Jr, and Lennox Lewis.
What made this book interesting to me were the many stories in Mercante's fascinating life, as well as what it means to be a referee. I acquired a new appreciation for what goes into being a ref, and how much training and skill it takes to do it well. From the fundamentals, such as inspecting the ring, hand wraps, and gloves before the fight, to watching over the safety of the fighters while staying inconspicuous, he covers the obvious. What really shines, though, are the things a casual observer won't know, including the physical condition a ref has to maintain, what it takes to break fighters, how to earn their respect, knowing when to stop a bout by the look in a gladiator's eyes, and dealing with irate fans and corner men.
A well-told account of many of the greats fighters and moments throughout boxing history by one of the best officials to ever step into the squared circle, I found "Inside the Ropes" to be a pure pleasure to read.