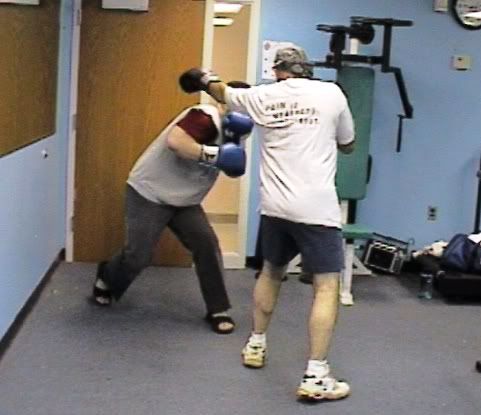 I'm sure there are other boxing punch numbering systems out there, but this is the one I learned in the boxing gym, and it works well for me:
Jab

Straight or cross

Lead-hand hook

Rear-hand uppercut

Lead-hand uppercut

Rear overhand
Similar to the stick angle numbering systems in the Filipino martial arts, boxing punch numbers help you learn to build combinations and to train a fighter as you have them throw the punches in drills or on the mitts. For example, a 1-1 is a double-jab. A 1-2 is the famous jab-cross or jab-straight. You can build from there, but add in pauses to make them more realistic, and to create openings. I will have a post on one of my favorite combos in the AM, the 1-3. Open-book pop quiz: What is the 1-3 combination?
Tags:
Boxing
,
punch
,
jab
,
straight
,
hook
,
uppercut
,
overhand
,
drills
____
All original material is copyright of their respective authors.
All rights reserved. Permission must be obtained before use. Copyright 2006