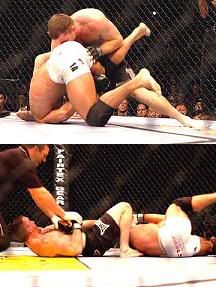 Many have commented on how MMA has caught fire in the U.S., finally. This Washington Times article, "Fierce foe for boxing," is the best I have read on the state of boxing in contrast to MMA, and the reasons why. My hope is that boxing will get its act together in response, or be relegated (even more than now) to the backwaters of public opinion as a sport. Excerpts:

It is 5 p.m. on a Saturday at Mandalay Bay Events Center, where the doors have just opened for the first bout of a fight show. It is one of several fights that will take place hours before the pay-per-view battles start.
Typically, there are more people working in the arena than watching the first fight of a boxing card.
"You can usually hear a pin drop," said Marc Ratner, the former executive director of the Nevada State Athletic Commission.
Not tonight. This night there is a crowd waiting for the doors to open, and there are about 6,000 people already in the arena when Kurt Pellegrino takes on Drew Ficket in a welterweight bout.
But then, this isn't a boxing show.
It's an Ultimate Fighting Championship mixed martial arts event, and the sport that blends boxing, kick boxing, wrestling and jujitsu is all the rage in Las Vegas.
What's the live audience like for UFC in Vegas, versus boxing?

In May, Staples Center in Los Angeles was sold out for UFC 60. The month before, the Arrowhead Pond arena in Anaheim was sold out for UFC 59.
Contrast that with Saturday night's boxing pay-per-view show at MGM Grand Garden in Las Vegas, considered to be the center of the boxing universe.
Two of boxing's biggest stars, Shane Mosley and Fernando Vargas, fought in a rematch. There were thousands of empty seats, and most likely a portion of the 9,800 fans who did show up received complimentary tickets.
More...

That sound you hear in Las Vegas is not a pin dropping, but knees knocking -- the knees of those in the boxing business who see their sport being pummeled by Ultimate Fighting Championship, the most prominent of the various mixed martial arts promotions in America.
Most boxing promoters don't want to even acknowledge the existence of Ultimate Fighting Championship. Bob Arum at Top Rank did not respond to questions about it, and a representative of Kathy Duva at Main Events said the firm won't discuss it.
Promoter Gary Shaw, however, is willing to address what he believes should be a wake-up call for boxing, else it turns into a requiem for the sport.
"I think UFC is the up-and-coming wave and poses tremendous competition to boxing," Shaw said. "It has been creeping up on boxing without boxing being aware of it. They are getting the younger fans, and our fans are getting older and older..."
Read the rest.
UPDATE:
Nice article on UFC fighters visit to Marines at Camp Pendleton.