A fascinating and inspiring AP story, "'Preddi' fell from sky into island's heart" via USA Today tells the story of an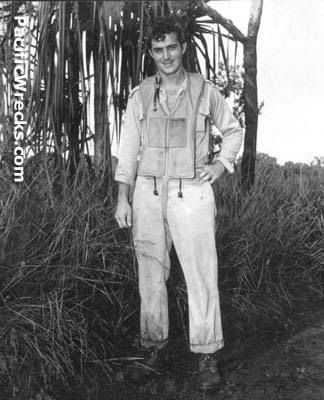 American pilot, on a photo-reconnaissance mission, who is shot down by the enemy over New Guinea.
Swinging beneath his opened parachute, he plunged toward a Pacific island jungle of thick, towering eucalyptus trees, of crocodile rivers and headhunters, into enemy territory, and into an unimagined future as a hero, "Suara Auru," Chief Warrior, to generations of islanders yet unborn.
Fred Hargesheimer survives on snails, luck, and prayers, then the help of new friends while making his way through the jungle to a new life.
His daily existence in the jungle was miserable. Leeches clung to his skin. Flying insects sought out his  eyes and nose. Losing weight and strength, out of matches and desperately keeping his fire going, he suffered through nightmares of dying alone in the jungle. From his youthful days as an Episcopalian lay reader, the lost pilot summoned words of hope.

"The Lord is my shepherd. I shall not want," he told himself, over and over. From memory each day, he'd recite that 23rd Psalm to its comforting final verse, "Surely goodness and mercy shall follow me all the days of my life..."

And on the 31st day, he heard voices on the river. When they came to him, he cried.

Hiding from patrols

Villagers here on the north coast had seen the distant plane go down. Now, in an outrigger canoe on an upriver hunting trip, they had their eyes out for a pilot.

Finding Hargesheimer by the riverside, Lauo, their "luluai," or chief, showed the bearded, haggard white man a note written by an Australian officer saying these villagers had saved other pilots and could be trusted.

That night by the river, Lauo's party exploded with wild singing and feasting, unnerving the young American, who had been warned by intelligence officers of headhunters in these highlands. Then, as they sang in an island tongue, he picked out the melody: "Onward, Christian Soldiers." He felt reassured.
The implications of his capture could've been deadly to his new friends.
Villagers protected "Mastah Preddi" — Master Freddie — apparently because they hated the Japanese for their cruel treatment of natives. Time and again, the low echo of a conch shell blown by a villager would warn of Japanese. If Mastah Preddi wore his boots as he rushed to hide, children would follow with makeshift brooms, sweeping away his prints from the sand.

The village took a great risk by protecting him from the Japanese, he says.

"If they'd seen my boot prints, I think they would have tortured everyone in the village until they produced me."
This makes me recall some of the brief anecdotes of Japanese brutality related by my father, a young boy during the occupation of his homeland, brought to life for me by the fine feature film, "The Great Raid" (2005), which takes place in my dad's hometown of Cabanatuan.
As the USA Today article mentions, Hargeshiemer is now 91. We've all heard and read about how many old veterans of that great generation we're losing daily. Take a moment to speak with one today and get his story. The odds of survival and the resources that it took to not only stay alive, but complete their missions took many more skills than we have today, not to mention little things like GPS, "black boxes," translators, and Google! My understanding is that they didn't even have warning labels on things!!!!
To me, the story has numerous points: faith in God, resourcefulness, will to survive, friendship and loyalty, gratitude, and how interdependent we can be. All of those attributes crossed the barriers of language and culture. Lt. Hargeshiemer felt he owed something...
But "a simple thank you didn't seem enough," he recalls. Back home, he consulted with a missionary, who told him what the people needed: a school.
A fascinating look at a real man, one to emulate and admire. Read it all!
Video interview:
For more information:
Pacificwrecks.com
The School That Fell From The Sky via Amazon