I grew up watching free boxing on TV - even world championships. I know, I know, hard to believe, but the Manly Art of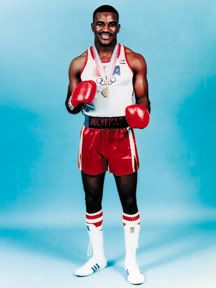 Boxing was once free to watch on television! Anyway, I saw many great fights and fighters: Tommy Hearns, Ali, Frazier, Holmes, Arguello, etc. At that time, you were also able to watch a fighter progress from his amateur days through world championships. I watched Tyson lose the Olympic trials, then go on to win the undisputed world championship (didn't see him lose it on PPV, though). Really enjoyed watching a whole Olympic class in 1984 go on to glory in the pro ranks. Take a look at this class:
106: Paul Gonzales, Los Angeles, Calif. (1st)
112: Steve McCrory, Detroit, Mich. (1st)
119: Robert Shannon, Edmonds, Wash.
125: Meldrick Taylor*, Philadelphia, Pa. (1st)
132: Pernell Whitaker*, Norfolk, Va. (1st)
139: Jerry Page, Columbus, Ohio (1st)
147: Mark Breland*, Brooklyn, N.Y. (1st)
156: Frank Tate*, Detroit, Mich. (1st)
165: Virgil Hill*, Williston, N.D. (2nd)
178: Evander Holyfield*, Atlanta, Ga. (3rd)
201: Henry Tillman, Los Angeles, Calif. (1st)
+201: Tyrell Biggs, Philadelphia, Pa. (1st)
*Denotes world champion
What do you think? Is there a class that compares? Note that Gonzales, McCrory, Tillman, and Biggs actually contended for world titles, so that makes five world champions, and four contenders out of twelve weight classes! In addition, Meldrick Taylor, Pernell Whitaker, and certainly Evander Holyfield should be considered among the best ever in their respective weight divisions.
For me, personally, I enjoyed watching Pernell "Sweet Pea" Whitaker making people look silly with his preternatural defensive skills, Mark Breland because I was always in awe of his height and how he was always on the verge of getting knocked out, and Evander for his toughness. Of all of them, the ironman is definitely Holyfield, who's still fighting, and trying to work toward that elusive world title at 45 years of age! Evander should be considered one of the best-ever cruiserweights, and was unrivaled during his reign, so dominant that he left his natural weight class for the big dollars and tougher competition of the heavyweight division.
Any opinions on this? Head over to the Convocation thread or comment here.
Watch Whittaker: