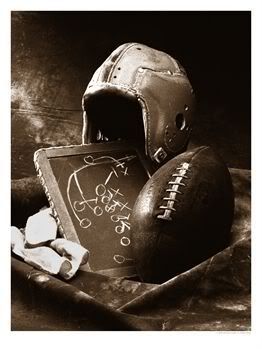 It was a great pleasure to try out a little coffee shop in the small town that we've recently moved to, and to meet the proprietors, a wonderful couple. My wife has been bugging me to go check it out, raving about the pumpkin frappuchino or something like that. It was a really nice shop, out of place in that it's so well appointed, atypical for the community. Anyway, after a few days on business travel, it was nice to relax together, get a coffee, and enjoy each other's company. I also thought it was cool that there's a nice looking Tang Soo Do school right next to it at which I may enroll my son.
One thing that stood out to the both of us was a large, rowdy group at several tables that were pushed together to form one large on, in the center of the place. To tell you the truth, I was intimidated, and was hesitant to even walk by this group of tough looking guys and fine looking ladies, much less look them in the eye. Rick, the proprietor explained when we went to order our sissy drinks. The group was a reunion of the "Ball Busters," a semipro football team that played together in the 1940s! They were having a blast, catching up with one another, and sharing memories of their good times on the gridiron and the days since. It made all of us smile to see them the old warriors, who probably formed just after the war, then must've gone their separate ways, get back together and relive old times.
I hope to do that with my training buddies someday. Warm fuzzies, for sure.
PHOTO: Allposters.com