It was one year ago today that we published our interview with George Ruiz of CalSavate, ostensibly to find out more about an esoteric and mysterious art called "Savate." Well, I decided to catch up with George and see whether he's still kicking (couldn't help it) out there in California. I emailed the following interview only a couple of days before I needed it back, and so appreciate getting it back for you in such a timely manner. Thanks George.

__________________________________________________________________
Hi Nathan,
Here are my responses to your Spanish Inquisition (which I wasn't expecting). Also, I include a picture of myself with Randy Couture for you to post with the interview-- because that's how I roll and i want to give everyone the impression that I hang out with reigning UFC champs all the time.
Cheers,
George
CalSavate.com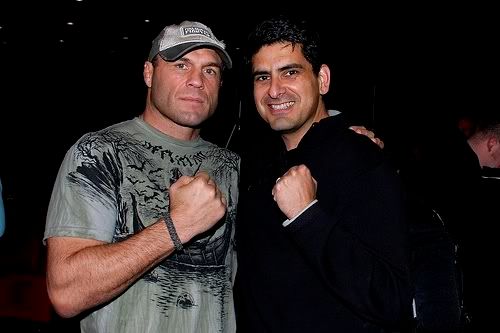 George, it's been a year since we interviewed you at TDA. What's changed for the California Savate Association?
Hi Nathan, thanks for having me back on TDA Training. Man, that was a fast year, and here we are, still blogging! Well in the course of a year the California Savate Association has accomplished a lot of our goals. Through a series of qualifying tournaments held in California we selected a team of fighters who went on to do incredibly well at both the United States National Savate Championship and at the
Assaut World Cup
in Paris. At the national level, CSA members won every one of their fights to earn spots on Team USA. Team USA then went on to win an unprecedented five medals at the 2006 World Cup.
Nicole Sedmak
and Amy Hronek each won a Silver Medal, while Michael Giordani, Mary Frances Person and Adrienne Gilg each won Bronze Medals. That's the best that the United States has ever done in international savate competition. All the medalists were California Savate Association members and coaching them were LA based instructors,
Nicolas Saignac
and Michael Giordani. Many of the other Team USA members who didn't medal, nonetheless distinguished themselves in some really tough fights against the best savateurs in the world, and they all came back with invaluable ring experience. I'd call that a pretty good year for the CSA.
How about for your blog, Le Blog? How's that going? You've been posting less lately, what's up with that?!
Le Blog? What's that? You know I renamed the blog
Boot to the Head
a few months ago when the whole thing went through a major redesign. I felt "Le Blog," while amusing, was just too generic and I wanted something that tied in directly to Savate and was just overall more dynamic. As you know, Savate training and fighting is all done in shoes and the sport's origins did include early practitioners that fought using wicked steel pointed boots - so I paid homage to our past and present with the name "Boot to the Head - Savate and Martial Arts news. Applied directly to your brain." Honestly, the new name didn't go over too well with a lot of readers who liked the simple humor of "Le Blog" and i got a lot of anti-Boot email, but whatevs. They adjusted and my snarky approach to martial arts (and savate in particular) continues as before. But as you've pointed out, I've taken on an expanded role in my company so it's been a challenge to keep blogging at the same pace I was at a year ago. It was sweet of you to notice.
We've enjoyed LeBlog/Boot to the Head for a while now, what are the plans for that venture in the future?
As you know I've done a few
podcasts
and hope to produce them on a more regular schedule. Recently, however, I've also been toying with the idea of creating some video content for the Boot - either savate lessons or video podcasts or some combination of the two. The tools to produce interesting online content are readily available nowadays and apart from being a martial arts enthusiast I'm also a huge
gadget and technology geek
. If I can find the time, I'd like to shoot some of the wonderful savateurs here in Los Angeles and put it up on CalSavate.com. Michael Giordani is absolutely dynamic when he fights (you can watch him take on a champion Muay Thai fighter
here
) and
Mary Frances Person
is probably the most graceful and elegant fighter I've seen in competition. They'd both be great to watch in HD video.
How is your personal training going? What've you learned in the past year? Planning any changes or have any new goals? Still training with Mary Frances Person, Michael Giordani, and Nicolas Saignac?
Work is going really well for me right now, but that's definitely cut into my training. I was doing regular lessons twice a week with Michael Giordani, but now that he's moved into a new training facility and with my work hours having gone up a lot, it's been tough to keep consistent. As it is now, I'm training 2 to 3 times a week in a local gym, doing more regular kickboxing and muay thai type of drills, bag and pad work. However, whenever I spar, it's only Savate that I use in the ring. My sparring partners like it because it exposes them to a style they aren't used to and keeps them on their toes. I've found that Savate's mobility and rapid kick-punch combinations are quite effective - but also gets you gassed a lot sooner if you haven't maintained your cardio. Consequently, I've grown to appreciate core conditioning and basic cardio work. That stuff really pays off in the ring. I know lots of fighters don't care about cardio much, with the oft quoted "real fights only last a few seconds", but putting in the road work pays off in the ring after that 3rd or 4th round. I'm also attending California Savate Association seminars when they're held every few months. They're great fun. They're conducted by Nicolas Saignac and Mary Frances Person and offer people who are curious about Savate a chance to try the sport in a non-competitive environment.
Goals? I'd like to get tested (and pass) my next glove level in Savate. I've been a White Glove for a couple of years and am anxious to progress. The hierarchy in Savate goes like this: No Glove, Blue, Green, Red, White, Yellow and Silver. Silver is the top level and the testing for that is incredibly rigorous. I expect Nicolas Siagnac will be conducting a Yellow Glove test sometime this year and I'm hoping to finally get it.
Anything else you'd like to share with TDA's vast and fearsome readership?
Well, after 8 years of practicing this esoteric French fighting art, I still love it. It's dynamic, fast and requires more elegance and strategy than other art I've trained in (boxing, kenpo and tae kwon do). I'm not saying that Savate is better than any other martial art, but it just happens to suit me. It teaches tools that any fighter can use, even if they don't want solely dedicate themselves to Boxe-francaise. So I hope more fighters look into it and seek out some Savate lessons. The skills you learn in Savate will make you a better fighter in whatever style you choose.
Also, I have to say, Nathan, that I really admire your blog and your dedication to martial arts in all its forms. You're one of those guys that like to connect people, whether its through the forum you recently started or interviews like this appearing in TDA Training. You expose people to new ideas. That makes you and your readers a dangerous lot. Hopefully some of them will check out Savate by visiting Boot to the Head and Calsavate.com. Thanks again for having me here.
Aw shucks. Thanks. Actually I have to thank George as well for his assistance. He and Dojo Rat have been instrumental in developing the concept and helping manage and moderate the Convocation of Combat Arts as well, so head over and check that out as well.