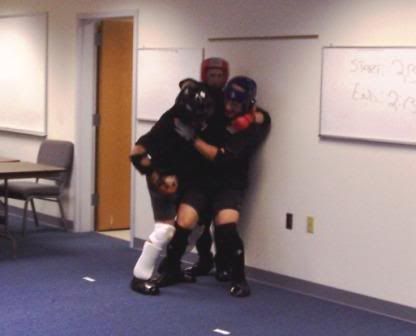 Last Saturday (8/26), we finished a lot of Sam's 2nd Dan test, including a long 2-on-1 round with Mike and Daniel (pictured). We then went over front and rear handgun disarms, followed by what I call Thai wrestling, which is where you stay standing and grapple for the dominant (inside) position in a Thai clinch.

It was a good day, with lots of material covered, and good progress made. Sam only has a little left on his test (form only), then will be promoted, after ten years!

The group then discussed taking me out after our next evening training, since I will be moving. Should be fun. More with technique breakdown, problems & solutions, etc. I have the screen shot pics done, and should have the video clips done in the next day. More soon.