National Geographic Channel Examines The Science Of Martial Arts In FIGHT SCIENCE
World Champion Martial Arts Masters Meet Cutting-Edge Technology To Test the Most Complex Weapon on Earth - the Human Body

National Geographic Channel′s Fight Science Builds Extraordinary Studio-Laboratory to Measure and Map the Impact, Range, Speed and Force of Martial Arts Moves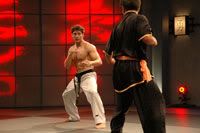 It strikes four times faster than a snake. It kicks with more than 1,000 pounds of force. And it can rival the impact of a 35 mph car crash. It′s the most complex weapon ever designed - the human body.

Now, the National Geographic Channel (NGC) brings together a dream team of scientists, motion-capture specialists and CGI animators, along with a cross-section of champion martial arts masters, to analyze the world′s greatest fight techniques. The tests are designed to separate fighting fact from martial arts myth and provide unprecedented insight into their astounding strengths and capabilities. The results will be presented in the two-hour world premiere special FIGHT SCIENCE, Sunday, August 20, at 9 p.m. ET/PT.

For the first time, FIGHT SCIENCE brings together members of the crash-test industry, the sports biomechanics industry and the Hollywood animation industry - applying their combined expertise and technology to a diverse range of martial arts techniques, including karate, kung fu, jiu jitsu, tae kwon do, muay Thai and wushu, among others. The results reveal the comparative strengths, advantages and limitations of the various martial arts styles. And in a breakthrough combination of technologies, scientists are able to peer inside a fighter′s body in real time.

FIGHT SCIENCE tests and films world-renowned martial artists, hand-picked to represent various disciplines, in a custom-built combination dojo (a school for training in the various arts of self-defense), high-tech lab and film studio that took over a year to design and build. Are the legends true? Is there such a thing as a death punch? How much force does each fighter exert? With 32 infrared motion capture cameras, three high-definition cameras and three ultra-high-speed cameras, the studio allows the crash test and biomechanics scientists to measure and map the speed, force, range and impact of muscles and bones in the fighters′ bodies.

The motion-capture technique, requiring reflective markers over the fighters′ entire bodies, allows for sophisticated real-time three-dimensional models (seen in films like KING KONG, LORD OF THE RINGS, and THE POLAR EXPRESS). These results are combined with other data to create separate sophisticated animations of the fighters′ bones, muscles and nerves. Fight Science juxtaposes the fighters′ movements with their animated selves for unprecedented insight into exactly how the body generates each move.