It looks like Mike DePasquale, Jr. is starting a new venture called KIMAWN


Karate International Magazine
+
Martial Arts Worldwide Network
=



Karate International Magazine was a huge success for over 13 years in the martial arts community. The publication was top-notch and focused on martial artists first and foremost. With innovative ideas and a dedication to "local" martial artist Karate International was a fan favorite the world over!




MAWN was the first online community EVER! Over 15 years ago AOL in its early days contacted Michael DePasquale, Jr. and asked him to "test" the waters of the internet world with the first ever online community! This website was definitely a trail blazer with many features and benefits not found in any such community even today (some 15 years later)!




Now an incredbile event has taken place and these two awesome resources have combined to form the worlds largest and most feature rich online community!




The community will be opening soon, but already some of the features are starting to trickle out into the martial arts community. One such feature is MAIN, the Martial Arts International NEWS which is a totally FREE way for people to submit and receive newsworthy items related to the martial arts community worldwide!



I was a pretty avid reader of Karate International, and have met Master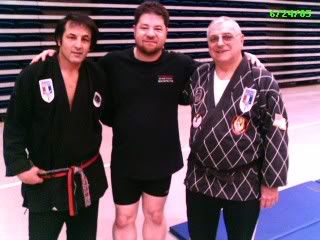 DePasquale a couple of times (pictured), and was honored to have met and learned from his venerable father, Grandmaster DePasquale, Sr. on one brief occasion. With that in mind, I have no doubt that this will be a successful endeavor and will enrich the martial arts community with knowledge in a fraternal spirit of cooperation and respect. There is an initial signup here.
UPDATE - I spoke with Mike DePasquale earlier this evening. He's pretty excited about this, and will provide more details shortly. Stay tuned!