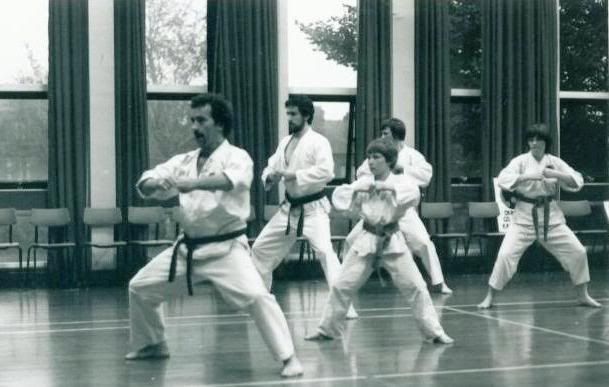 From MMAFighting.com's Jeff Harder. Read the whole thing before you form an opinion. I'd love to get some comments on this, and will comment back on it. Read on.
The climate toward eastern martial arts—specifically karate—is becoming increasingly hostile in the world of mixed martial arts. After a memorable KO victory over Rick Davis at UFC 60, Melvin Guillard took some time to proclaim the irrelevance of karate in the world of mixed martial arts. His comments come on the heels of Mike Nickels pep talk to Ed Herman on last Thursday's broadcast of The Ultimate Fighter 3, disparaging fellow competitor Danny Abaddi's job as a tae kwon do teacher.

How come karate gets no love?

Twenty years ago, though it may not have been terribly explicit, karate promised to make little kids into badasses, similar to MMA today. Look at Cobra Kai (not the Marc Laimon one). They did push-ups on their knuckles for God's sake!

More importantly, it was flashy. Karate entered the public consciousness around the same time Steven Seagal and Jean Claude Van Damme started making some of the best/ worst movies ever. Find me a critic of karate in MMA that doesn't love Van Damme movies and I'll show you someone that doesn't exist. Karate was seemingly a tangible way for kids to emulate the heroes of the R-rated movies they shouldn't have been watching in the first place. Who cares if a horse stance ignores common sense? Who cares if tornado kicks leave you open for an elbow at the back of your skull? It looks cool!

But that's probably the root of the animosity that still festers through the MMA community today: karate is at best an inferior fighting style, and the general consensus is that it has no reality application. You'll be hard pressed to find an MMA fighter that didn't do karate at some point, though, which makes me think the animosity toward karate stems from a sense of betrayal. It's as though they had been duped out of learning the real way to fight and instead wasted years on developing skills in this martial art that wouldn't count when a dude 40 pounds heavier would slam you on the ground.
Read the rest. Very interesting.