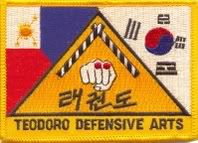 OK this is the last bump. It looks like the list is a success. I will add this to the sidebar next week. For those who have subscribed, welcome, and thanks for reading the Teodoro Defensive Arts blog! - Nathan
+++++++++++
I am creating a email distribution list. If you would like to be included, please send an email to the tdatraining@gmail.com with "SUBSCRIBE TO TDA" in the Subject line. Subscriptions aren't automated, but I will be doing this via rule/filter, so please let me know manually (email) if you want me to remove you from the list. I will be emailing posts as they are published, and later may do it via tags, though they haven't been set up yet.
++++++++++++++
UPDATED! This has now been converted to a FeedBlitz subscription. Please see this post for details, or the form on the sidebar. Thank!