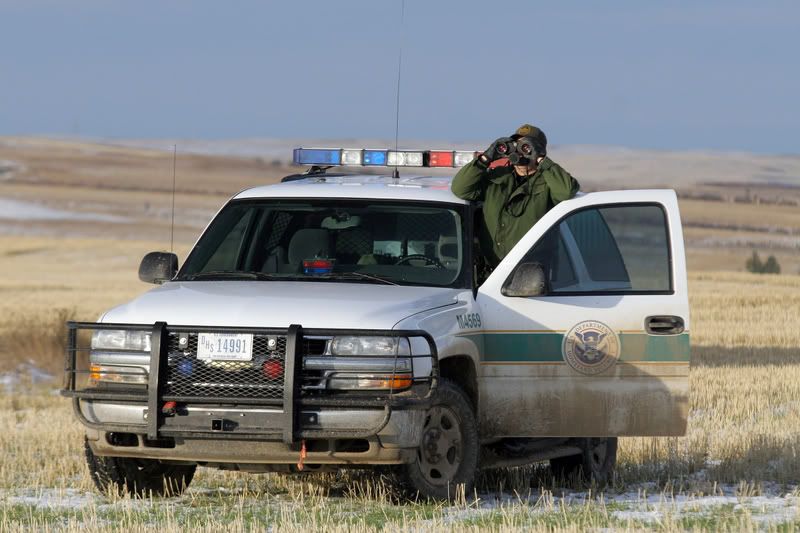 Many aren't aware of the long-running war on our southern border. Read for some background, read this report by Jerry Seper of the Washington Times on Wednesday, August 6, 2008.
Border patrol agent held at gunpoint

A U.S. Border Patrol agent was held at gunpoint Sunday night by members of the Mexican military who had crossed the border into Arizona, but the soldiers returned to Mexico without incident when backup agents responded to assist.

Agents assigned to the Border Patrol station at Ajo, Ariz., said the Mexican soldiers crossed the international border in an isolated area about 100 miles southwest of Tucson and pointed rifles at the agent, who was not identified.

It was unclear what the soldiers were doing in the United States, but U.S. law enforcement authorities have long said that current and former Mexican military personnel have been hired to protect drug and migrant smugglers.

"Unfortunately, this sort of behavior by Mexican military personnel has been going on for years," union Local 2544 of the National Border Patrol Council (NBPC) said on its Web page. "They are never held accountable, and the United States government will undoubtedly brush this off as another case of 'Oh well, they didn't know they were in the United States.'

"It is fortunate that this incident didn't end in a very ugly gunfight," said the local's posting.

The NBPC represents all nonsupervisory personnel among the agency's 16,000 agents.
As usual, this is a political issue, and the Administration has nothing to say.
Border Patrol spokesman Michael Friel did not return calls for comment Tuesday.

State Department spokeswoman Nicole Thompson said Tuesday that the department had no information on the incident, and referred further questions to the Border Patrol. "It is not an incident that we are aware of," she said.
The money quote:
Since 1996, there have been more than 200 confirmed incursions by the Mexican military into the United States. [Emphasis mine - Nathan]
The Border Patrol and local law enforcement are no match for the firepower or numbers of the invaders, who are prepared to do battle. "Sheriff Gonzalez said three of his deputies in 2006 spotted 25 men dressed in military uniforms in the U.S. during a late-night patrol. He said the men marched two abreast and carried duffel bags and automatic weapons, and that his "outmanned and outgunned deputies" were forced to retreat.
______
My questions:
Why the silence on the part of most of the news media? I get my news from numerous sources, but they include a balance of perspectives, from USA Today (primary source), to the Washington Post, Washington Times, and Reuters. I don't see this covered much, if at all!
Doesn't a steady and consistent flow of drugs and illegal aliens, abetted by the military of a foreign nation qualify as a national security problem? I'd think that the Executive Branch's primary responsibility as spelled out in the Constitution (see Article IV, Section 4, among others) is to protect our borders from invasion.Why isn't it being done? The US military and National Guard should be on the border with sufficient armament to get the job done, and in plentiful numbers.
Doesn't this go beyond politics? I see it as a matter of national sovereignty, and security. How can our nation be protected from the drug trade or terrorism if we can't determine who crosses into our borders. The same issue is present on the northern border, but not in so blatant a manner.
I make no apologies for my support of our great nation's military in all the branches, and those serving in public safety. I am disgusted that a lone sheriff's deputy or border patrol agent on patrol may encounter a horde of well-trained men with automatic weapons and body armor in vehicles donated by the American public. A local law enforcement officer isn't equipped or constitutionally tasked with defending our border - the President and Executive Branch are.
Your opinion?
Image credit: Wikipedia Commons