Charlton Heston's recent passing made me reflect on the passing of stardom in Hollywood, replaced by "celebrity."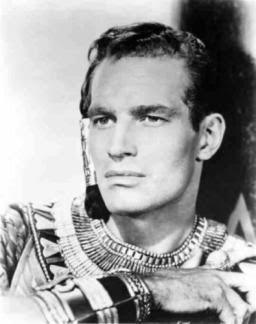 Heston, along with his peers such as John Wayne, James Cagney, Lee Marvin, James Coburn, and Charles Bronson, represented a stature in male (and female stars) that we just don't see anymore. Perhaps it's the constant stream of paparazzo and tabloid coverage of our actors and actresses nowadays, but there's something missing. It may also be the type of actor that Heston represented so well - strong, principled, determined, and tough.
My fondest memories of Heston's roles include his Moses in "The Ten Commandments," Taylor in "Planet of the Apes," the captain in "Midway," and his iconic portrayal of Ben-Hur in the film of the same name. Another of my favorites was his Robert Neville in 1971's "The Omega Man," which has been redone as Will Smith's "I Am Legend." My brother and I were fascinated with the solitary and post-apocalyptic story of a man trying to stay alive in the midst of a world filled with maddened mutants. And how about his hoarse cry, "Soylent Green is people!"
Think what you will about Heston, he was uncompromising in his roles onscreen and off. His support of gun rights seemed to fit his persona, as unpopular as it may have been among his Tinseltown neighbors. I understand many of them apologized during the rioting a decade ago, as they begged for protection from the rioting and rampaging citizens of LA. He stuck to his guns (sorry), and remains one of my only heroes in the Hollywood that's passing away.
For more:
Charlton Heston on IMDB