Hello and welcome again to this weeks installment of MMA Weekly Wrap Up! This is where we deliver all the latest news and happenings in the Blogosphere of Mixed Martial Arts. We'll keep you up to date and in the know of all the major Combat Sport stories… and a lot of the not-so-major ones as well.


UFC 80 RESULTS

UFC 80 took place on Saturday in Newcastle, England, with a couple of really good matches. The Main Event was won by B.J. Penn which was no surprise to anybody, but me. (Last week, I predicted Joe Stevenson would pull out a win.)

Although Stevenson put up a good fight, he was simply out performed and out maneuvered by the quick and very strong Penn. The first round was dominated by Penn who took Stevenson to the mat and pounded him with punches. Stevenson was able to land some strong shots from below, however Penn split his forehead open with an elbow. Blood poured everywhere making it difficult for Stevenson to see.

The fight continued into the second round where Penn continued to punish Stevenson with punches before taking his back and mounting a rear naked choke to win the UFC LIGHTWEIGHT Belt.

The surprise of the night was the win of Fabricio Werdum over Gabriel Gonzaga.

Gonzaga started the fight off well with several well placed leg kicks against the larger Werdum. Both fighters seemed to be swinging for the fences, trying to land power punches and head kicks. It looked like it might be a short fight.

Sure enough, in the second round, Werdum was able to land a couple knee kicks and take Gonzaga to the ground where he beat him until the fight was called.

As MMAMainia.com points out, this most likely means that the little noticed Werdum will get a title shot at the winner of the Tim Sylvia and Antonio Rodrigo Nogueira fight; which will take place February 2nd at UFC 81: "Breaking Point."

The final results of UFC 80, as reported at CagePotato.com, are:

BJ Penn def. Joe Stevenson via submission (rear-naked choke), 4:02 of round 2

Fabricio Werdum def. Gabriel Gonzaga via TKO (punches), 4:34 of round 2

Marcus Davis def. Jess Liaudin via KO (punch), 1:04 of round 1

Wilson Gouveia def. Jason Lambert via KO (punch), 0:37 of round 2

Jorge Rivera def. Kendall Grove via TKO (punches), 1:20 of round 1

Sam Stout def. Per Eklund via unanimous decision

Alessio Sakara def. James Lee via TKO (punches), 1:30 of round 1

Paul Kelly def. Paul Taylor via unanimous decision

Antoni Hardonk def. Colin Robinson via TKO (punch), 0:17 of round 1



FINANCIAL RECESSION AFFECTS UFC 80

The only thing uglier than Stevenson's bloody face on Saturday night was the fact that the cost to purchase the event on PayPerView had risen, while (again according to CagePotato.com) the nightly fight bonuses were reduced.

Some of the Forums that I read had many fight fans complaining about the increased price for PayPerView and the fact that there weren't many big names on the card. A lot of fans claimed that they would go to watch the fights at Hooters instead of spending the extra money. (Some, however, may have just used that as an excuse to go ogle waitresses in hot-pants.)

MMAPayout.com seems to agree with these fans, citing expensive prices, fewer important fights, and diminished star power as reasons why the UFC may begin delivering less bang for the buck.

Even more unsettling is the fact that the UFC has reduced the amount of its fight bonuses by $20,000.

The Awards for Fight of the Night (given to the Paul Kelly and Paul Taylor match), Knockout of the Night (won by Wilson Gouveia), and Submission of the Night (awarded to B.J. Penn), which help to ensure exciting matches, netted each fighter an extra $35,000 (down from $55,000 at UFC 79)

Now let's get this strait; The UFC is making MORE money than ever, while paying its fighters, (the ones we pay to see) LESS money.

Somehow this just doesn't seem right.


UFC SUES 'THE NATURAL'

Cagepotato.com is also reporting that the parent company for the UFC, Zuffa has filed a lawsuit against one of the UFC's best known fighters, Randy 'the Natural' Couture. The lawsuit claims that Couture intentionally intended to inflict harm on the UFC and engaged in a breach of contract by engaging in direct or indirect competition with the UFC within a year after leaving the organization.

The UFC is upset that Couture has agreed to sponsor a team for the International Fight League and claims the damages in excess of $10,000.

Couture is set to coach a new IFL team: Xtreme Couture this year.

This all promises to get very messy.


WAY MORE OF Q. JACKSON THAN YOU EVER WANTED TO SEE

Let's see, price gouging…lower fight bonuses… lawsuits; Are we beginning to see a pattern here?
I gotta quit writing about the UFC Administration before I wretch.

It's time to switch over to something a little more entertaining.

Now, I know Quinton "The Rampage" Jackson has a reputation of being this mean, angry bad-ass all the time.
Well, that reputation is officially sunk after seeing this next clip! You'll never look at this guy the same way again. (I nearly died laughing watching him do his MAD TV 'Look what I can do' impersonation.) Watch it here!
[Warning: profanity]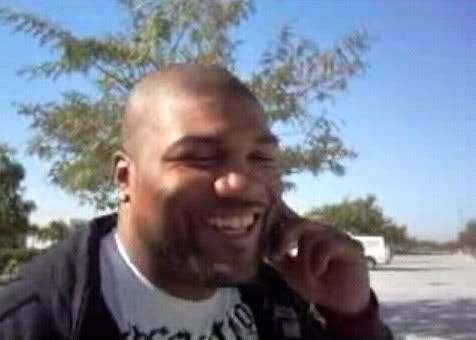 Very funny stuff. I'm really starting to look forward to the next season of TUF on Spike TV.


NEW LOGOS UNVEILED THIS WEEK
IFL.tv announces that it is unveiling "the new visual identity of its corporate brand."

As the website describes it; "The new logo is a reflection of the IFL's exciting style of MMA action as the league enters its second full season of competition. The design incorporates the traditional gloved fist coming towards the viewer from between forward-slanted "IFL" initials in front of a silver oval plate, utilizing the league's new color scheme of deep red, silver and blah… blah… blah…"

Is this news? Whatever.

If you wanna talk about logo changes, check out the new logo for my personal favorite blog… KICKSBOXES.



Yes, Kicksboxes has finally changed its look - which is meant to represent the fact that it's author has finally gotten around to changing his logo from a 'Window's Sample Photo' to something that actually took a little bit of effort.

The point is; who cares. What we really want to see is the IFL bring us some quality fights and finally bring some competition to the UFC. And while we're at it, it would be nice if the author of kicksboxes got off his duff and added some new content to his blog!



SHAMROCKS TO BATTLE SOMEDAY

In an interview at MMAWeekly.com, Frank Shamrock confirms that he will face his adoptive brother, Ken Shamrock sometime in 2009.
Frank is scheduled to defend his Strikeforce Middleweight Title against the Sanshou Champion Cung Le on March 29th. However, it is the possible fight between the two brothers that is gaining the most attention.
Frank fights as a middleweight, while Ken has spent most of his career fighting in the Heavyweight division. The two will compromise with a Light Heavyweight match.
There have been years of both brotherly love and frigid rivalry between these two great competitors. Frank promises that this fight will be the biggest in MMA history.
Judging by the amount of hype that various rumors of a fight have received, he may be right.

We'll report more as it becomes official.
-That's going to do it for this week. Check in again next Wednesday to find out the latest MMA buzz on the Internet.
Respectfully,
Rick