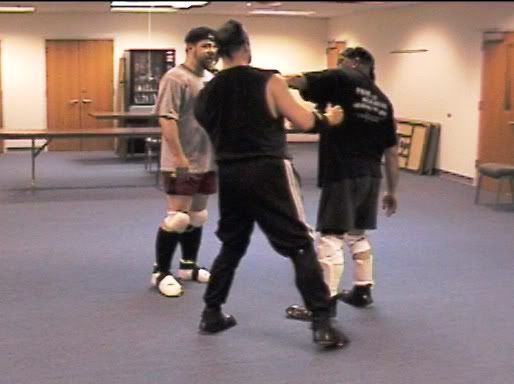 As I've mentioned before (see "Multiple Attacker Nightmare" and "Multiple Assailant Training" posts), I look upon multiple assailant attacks as deadly force (on the part of the attacker), and it warrants a response appropriate to the attack. Remember that in general, multiple attackers are emboldened and more vicious than individuals, and certainly more deadly. There is a peer pressure and group mentality that leads to maiming or death to victims. A few years ago, a huge (6'8"+) man was killed by a mob of kids as young as ten years old who basically beat him to death after he grabbed one of them for throwing something. Your old options are being more vicious than your attackers and getting them to flee, or getting to safety by fleeing. Are you sure you're faster than the fastest in the group? Do they have something to throw at you? What if you trip and go down?
Problems not mentioned before are that you don't know when a weapon will "appear," when you will lose your footing, and you don't have eyes on the back of your head. The solution to all of these is footwork (read this post, "When in Doubt, Move!"):



Keep your feet moving (with balance)




Maintain proper orientation to threats (don't get turned around)




STAY ON YOUR FEET! This is a situation where that newfangled groundfighting or grappling can get you killed!



Let's take a look at some examples from our training last week:







I hope this helps. A better defense is to have a weapon or lots of help, better yet, not be there. I can't emphasize enough that you need to keep your balance, and keep moving. Be careful.
++++++++
I just saw a nice recent post on this same subject from the Crime: Information and Prevention site. Read it.